A few of my favorite things
Topic: Whatever
I love books, reading, and good causes, not necessarily in that order. And today (I like to think it's to make up for the stomach-turning dreck being churned out by corporations desperate to make me buy something chocolate and/or shiny and/or red and/or disgustingly tacky before nightfall) the internet has given me all three. Internet, I love you.
I spent a lot of time reading when I went to my grandparents' houses when I was younger - especially when I reached the age where I was too young to be welcomed into the adults' conversations, and too old to find playing with my siblings or cousins entertaining for very long. For some reason, my favorite place to read was on the stairs. I don't really know why. Maybe because both my grandparents' houses had out-of-the-way staircases that weren't heavily trafficked, where I could reliably go mostly undisturbed without entirely separating myself from everything else going on. Whatever the reasons, I spent a lot of time tucked away on the stairs, reading.
I would've thought I was in heaven if I'd had a staircase that was a library at the same time: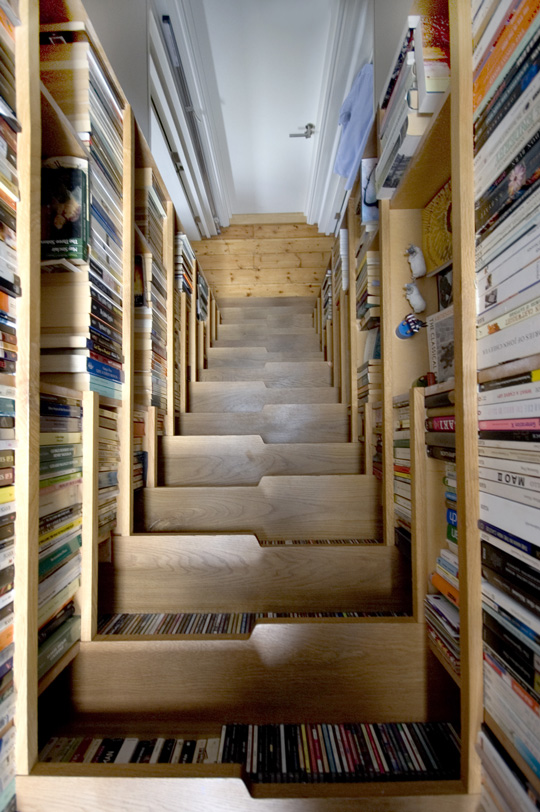 (more pictures here, and a hat tip to 50 Books)
What generates even more bookish happiness, though, is the announcement that the Dewey Donation System, after a hiatus last year, will be launching its 2008 book drive on Monday, 18 February. Dewey got its start five years ago as a humble little book drive on Pamie.com and just grew and grew. I think I discovered it during the post-Katrina drive in 2006, and following the updates and the thank you letters from the librarians was amazing. I may just spend the weekend reading about past book drives as I wait to hear about this year's, and whether there's something my very broke self can contribute.