It was wonderful to go back to Cambodia. I enjoyed my trip two years ago so much, I was thrilled to have the opportunity to go again.
March is not the best time to visit Cambodia. It's the dry season, which has little bearing on the humidity, but does mean that the landscape is brown and dry. And it's hot. I remember the weather being much more pleasant when I was there in November 99.
I was surprised to find that I sort of remembered my way around Phnom Penh. Since I was there for a meeting, I didn't really get much of a chance to run around the city, but I did visit the market, of course, and Wat Phnom, the temple that gave the city its name, and I re-visited the Silver Pagoda, which I found no less impressive than on my first visit.
The complex and grounds the Silver Pagoda is part of are worth the price of admission entirely by themselves. There are large areas of lush, colorful vegetation, and everywhere you look there are brilliantly colored multi-tiered roofs etched against the sky. The decoration on the buildings is stunningly elaborate.
My favorite building in the complex is a delicate, silvery-gray villa tucked into a corner of one of the courtyards. It was built by Napoleon III in Egypt, to house the Empress Eugenie while she attended the ceremonies for the opening of the Suez Canal. Napoleon III then gave it as a gift to the Cambodian king. Its a lovely building, with lacy balcony railings and stained glass windows, but it looks very odd surrounded by the vibrantly colored Khmer buildings.
The Silver Pagoda itself is one of the loveliest buildings in the complex, and even more remarkable inside (you're not allowed to take pictures inside, unfortunately). It houses a collection of traditional Cambodian arts, and gifts from foreign countries - the pieces that weren't plundered by the Khmer Rouge. The Silver Pagoda gets its name from the 5,000 blocks of silver that make up its floor. In addition to the collection of smaller treasures, it houses two stunning Buddhas - one a seated Buddha carved of rich, emerald-green crystal, the other a life-sized standing Buddha made of gold, and studded with over 9,000 diamonds.
As much as I enjoyed visiting Phnom Penh again, though, the real highlight of this trip was my four days in Angkor.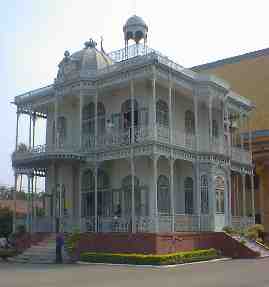 The Napoleon III villa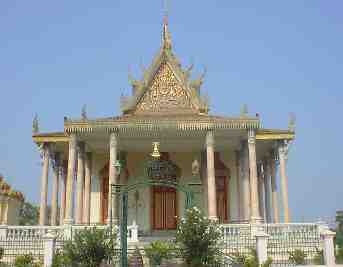 The Silver Pagoda